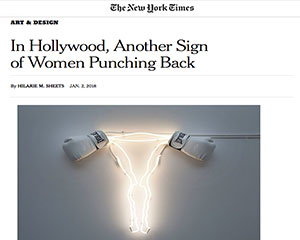 The New York Times covers Zoe Buckman's first public art sculpture, "Champ." The 43-foot rotating piece will debut on February 27th, 2018, on the Sunset Strip of Hollywood Boulevard in Los Angeles. The Times article hailed Buckman's sculpture as "well-positioned to be adopted as the logo of the #MeToo movement" and a "declarative image of female empowerment."
The article, In Hollywood, Another Sign of Women Punching Back, focuses on the sculpture's iconic potential to make a statement against objectification and sexual violence and for a new understanding of femininity.
Read the article in it's entirety here.