2019
SOLO EXHIBITONS



Heavy Rag, Fort Gansevoort , 5 Ninth Avenue, New York, NY 10014
Culled from deeply personal experience, the exhibition embraces the domestic archetype by balancing an ambiguity between vulnerability and strength.
Occupying the three floors of the gallery, the bodies of work are interconnected by the manifestation of the artist's relationship to physical spaces—the home, her mother's kitchen table, the boxing gym. After learning of her mother's terminal diagnosis, Buckman began to employ a variety of techniques and materials traditionally adorned by women; embroidered tea towels, quilting and pottery. The works which take form as misshapen tea cups, clusters of boxing gloves, and framed flatworks are intrinsically referential to the bodily form; all at once unveiling a complex dichotomy of trauma and pleasure and the slippage in between.
Buckman uses everyday domestic objects such as crockery and linens as a nod to the rituals that galvanized the bond between herself and her mother. Having a cup of tea at the kitchen table, wiping away a spill, the attempted removal of blood, are common everyday moments that gain both personal and universal dimensions. The ceramics emulate a feeling of loss and trauma from their decaying non-functioning form, while the series of tea towels present a moment of stability and strength through the embroidered text and formal presentation.
Text is omnipresent in Buckman's work, yet the meaning of these words and their implications are not straightforward. The verses are derived from multiple sources ranging from teenage trauma and her exploration of domination and submission; to the very words penned by her late mother, playwright and teacher, Jennie Buckman. For example, the piece entitled The Curse,is a flatwork of a hand embroidered vintage tea towel which reads "For this you need thick bleach and euphemisms." By layering her mother's words with her own response to life encounters, the artist pays homage to the collective memory of shared experience.
To that end, in an attempt to articulate her own grieving Buckman also sought inspiration and solace in the work of feminist artists before her.
"I found myself looking back at the women upon whose shoulders I feel I stand, as a way of processing impending loss. Louise Bourgeois and her textile works were a massive inspiration for this series."
Banter, the duo of boxing gloves which hang from the ceiling at the standard height of a training gym, moves the conversation towards emotions that lie beyond language. The piece presents a metaphor of aggression versus support. The two boxing gloves, both a protective and harmful tool in a male dominated sport, are clothed in differing dish cloths. Perhaps opponents, the gloves are at a glance delicately balanced on top of one another, simultaneously bringing to question whether they are holding each other up or tearing each other down. Heavy Rag is a journey through the hauntingly beautiful reality of grief, struggle and strength resulting in a multi-generational portrait of the contemporary female experience.
2019
GROUP EXHIBITIONS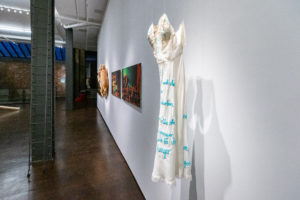 Furies, Fairies, Visionairies, Pen+Brush, 29 East 22nd Street, New York, NY
Furies, Fairies, Visionaries features works by thirty artists utilizing the visual languages of both fantasy and abstraction to claim and create space. Addressing gender, age, and sexuality; the evolution of urban and natural environments; the impact of technology, and more, these artists articulate profound, incisive, perspectives on current issues and conditions. Inspired by personal experiences, popular culture, concerns about climate change and socio-political inequities, as well as by formal and philosophical explorations of the nature of space and perception, these works demonstrate the vital need for women's visions and voices to be seen and heard. Whether navigating interior, imaginative realms or exterior, physical reality, women artists are taking and making more space in the struggle to create a more inclusive, equitable world.
The exhibition will be on view from January 25th to March 16, 2019.
2018
SOLO EXHIBITIONS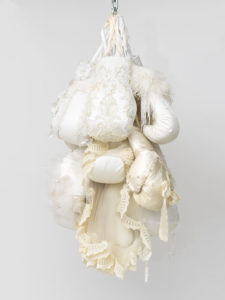 LET HER RAVE, Gavlak Gallery, 1034 North Highland Avenue, Los Angeles, CA
Gavlak Los Angeles is pleased to present Let Her Rave, an exhibition of new work by Brooklyn based artist Zoë Buckman. This is the artist's first solo exhibition with Gavlak and coincides with the unveiling of her first public sculpture at The Standard hotel in West Hollywood, produced by Art Production Fund.
Zoë Buckman is a multi-disciplinary artist best known for her politically charged sculptures, installations and photographs. Rooted in activism against social constructs that historically and presently oppress women, her works straddle a delicate balance between notions of: masculine and feminine, industrial and handmade, craft and "high" art, personal and collective, explosive and restrained. The artist thoughtfully develops this balance in order to make her work accessible to both men and women and promote a dialogue about the underlying issues of gender equality, and the safety of violence against women and girls.
The title of the exhibition is taken from a stanza in Ode on Melancholy, a poem by the eighteenth century English Romantic poet John Keats:
Or if thy mistress some rich anger shows
Imprison her soft hand, and let her rave
And feed deep, deep upon her peerless eyes
The ode offers an exaggerated explanation of how a man should cope with grief, suggesting that he seek out beauty in all objects and do so by objectifying a woman. A longtime admirer of Keats' poetry, Buckman struggled to see past this antiquated notion of female subjection and roles of women in society, using it as a revisionist platform and feminist "call to arms" for her work. This takes the form of two neon text works that literally highlight Keats' words in striking red stating "let her rave." A white neon sculpture entitled Ring, reads "imprison her soft hands" in the shape of a circle, referencing an unbreakable bind, a wedding ring, and patriarchal society's expectations that women be pure and chaste.
Also for the exhibition the artist created a series of hanging boxing glove sculptures made from worn wedding dresses. The soft silk and lace intricately sewn onto boxing gloves and suspended from a metal chain juxtapose notions of demure and delicate feminine sensibilities with the strong, feminist fighting for equality. In addition, one
notices how the textiles are stressed and bursting at the seams, further challenging the notion of female confinement. This is formal tension of materials also appears in Buckman's three "paintings" quilted into geometric patterns using the worn wedding gowns stretched like a canvas. By employing a "lower" art form of craft, the artist elevates the traditional female practice transforming it into minimalist painting associated with the male modernist canon.
GROUP EXHIBITIONS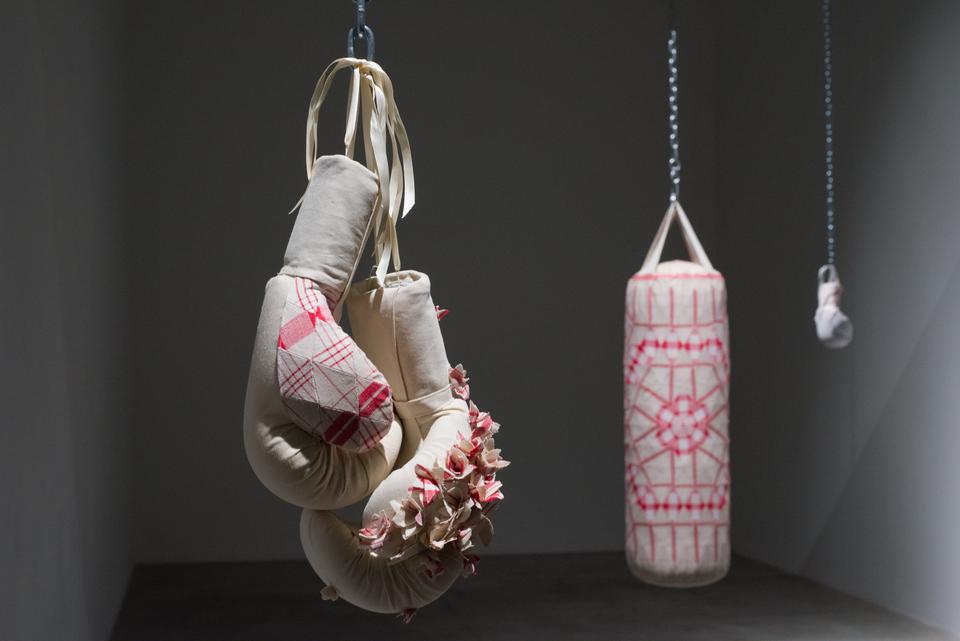 21st CENTURY WOMEN, The Unit London, 3 Hanover Square, Mayfair, London
Curators Fru Tholstrup and Jane Neal bring a host of British female artists to our new Mayfair gallery to celebrate the centenary of (some but not all) women receiving the right to vote in Britain, creating a powerful new exhibition of emerging and established contemporary British women artists.
Launching in tandem with Frieze art week, the show includes British artists who examine the role of women in contemporary society; others who are motivated by the body politics surrounding the objectification of the female form; and those who question the fractured sense of being that many contemporary women feel today. Some of the artists included have chosen work that is not intended to be read and interpreted through the lens of their sex. This is a show about the freedom of women to make the art that they choose.
This exhibition was on view from October 8th, 2018 to October 31st, 2018.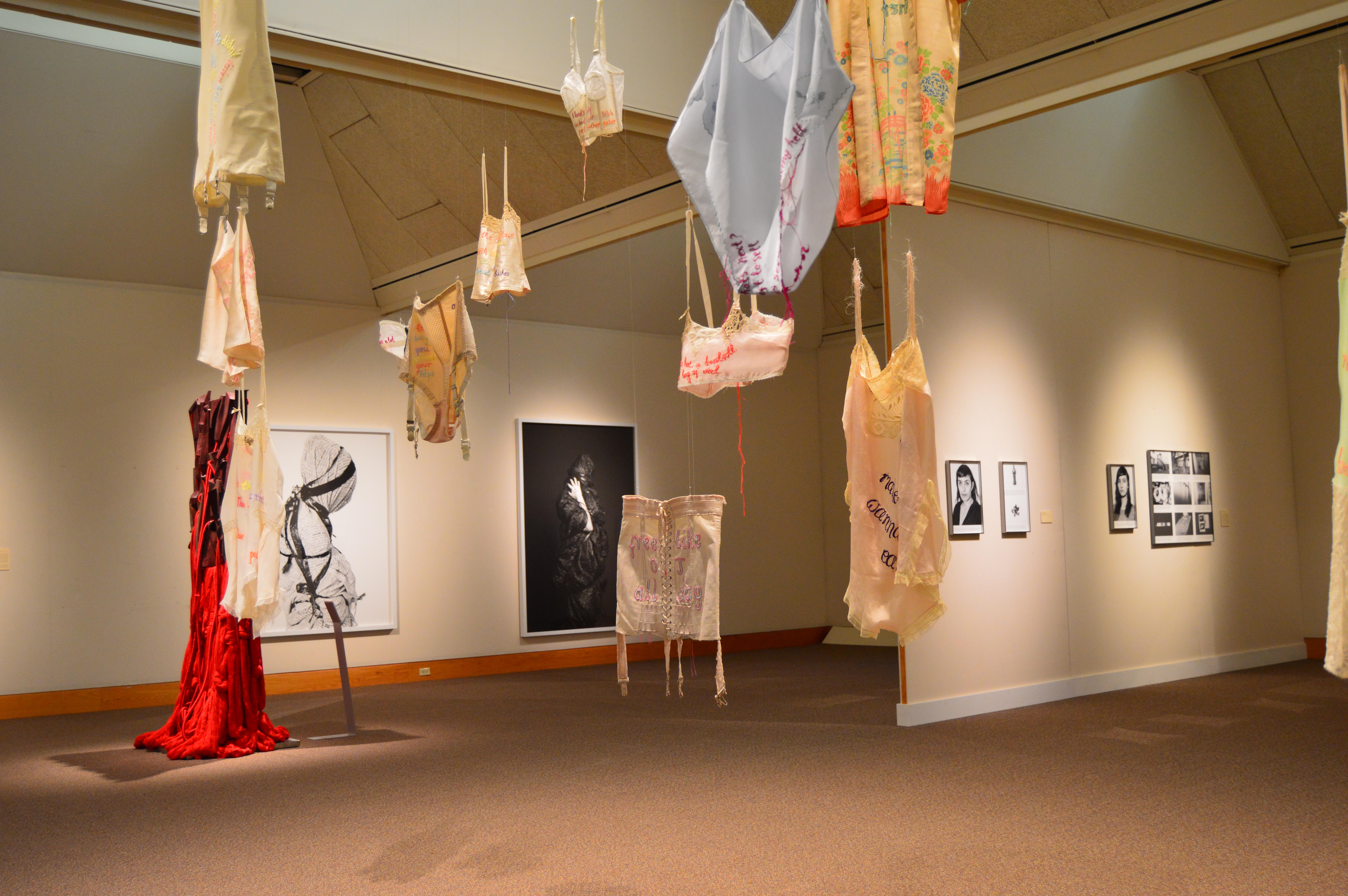 IN THE EYE OF THE BEHOLDER, EIU Tarble Arts Center, 2010 9th St., Charleston, IL 61920
Juxtaposing the work of established and emerging artists of diverse cultural backgrounds, In the Eye of the Beholder is an exhibition featuring the diverse artistic practices of women artists from 1968 to present. The exhibition connects the work of established women artists with the work of contemporary emerging women artists, to create a dialogue about the nature and realization of "feminism," from its past to the present, and the collective expectation for future progress. The work featured within In the Eye of the Beholder displays the achievements and challenges of the roles women have played and continue to perform within our society. The exhibition at times contains provocative imagery and subject matters, but also strives to create dialogue, reflection, and reconciliation about the roles of women in society past, present, and future. In the Eye of the Beholder was co-curated by Rehema Barber, Director and Chief Curator of the Tarble Arts Center and Erin J. Gilbert, Curator of African-American manuscripts, Smithsonian Archives of American Art.
The exhibition was on view from August 18, 2018 to December 16, 2018
HEAVY RAG, albertz benda, 515 W 26th Street, New York, NY 10001.
New York, NY – Zoë Buckman presents an entirely new installation entitled 'Heavy Rag' that addresses motherhood and the domestic sphere as sources of both oppression and empowerment.
In Heavy Rag, the artist has quilted vintage French tea towels into complex and striking patterns that deviate from the familiar red-and-white checkered linen.  Quilted panels completely envelope a boxing punching bag – a recurring element in her work – which hangs in the center of the room as a commanding presence.
Two audio recordings – of Buckman's training sessions at an underground boxing gym and the artist giving birth – play on a loop in the gallery.  The audio clips are different lengths, at times syncing, mingling, and drowning each other out.   It is not clear whether the voices in the recordings are in pain or ecstasy, yet the combined effects of the sounds elicit a sense of endurance, physical strain, and release.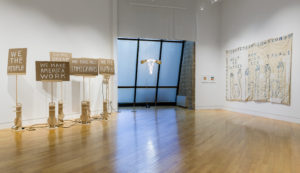 OH WHAT A WORLD! WHAT A WORLD! The Visual Arts Center of New Jersey, 68 Elm Street, Summit, NJ 07901.
"Oh, what a world! What a world!" are the last words spoken by the Wicked Witch of the West as she melts away in the film, The Wizard of Oz. Despite her status as a villain, there is pathos in those final words: Was she bemoaning her fate at the hands of a cruel world, or wistfully lamenting the beauty of the world as she passed from it? The melting witch is an apt metaphor for the loss of control many people felt in the wake of the contentious 2016 presidential election. Since then, American society has become increasingly polarized, with a heightened state of anxiety about the future of the country and the world. The Main Gallery exhibition Oh, What a World! What a World! examines how artists are responding to these recent changes. With new urgency, their work addresses issues such as climate change, immigration, politics, gender identity, race relations, feminism, and the state of our democracy.
The exhibition was on view from June 1 to September 9,  2018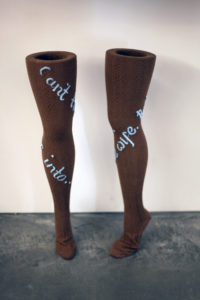 THE IDEAL FEMININE/ THE FEMININE IDEAL? Winston Wachter Gallery, 530 W. 25th street, New York, NY 10001.
The current political and cultural climate has refocused the world's attention on the female body, the abuse it has suffered as well as the strength within every woman that defies historical prejudice and injustice. Barbara Kruger's battle cry: "Your Body Is a Battleground" has never been truer. What has changed is that we are no longer content to simply offer our coy laments about the treatment of women by men in power. Perhaps for the first time in history, women are banding together, speaking out, using the legal system to bring their abusers to stand public trials, supporting one another as we move forward to a new era of feminism, equality and a future where our daughters will no longer feel afraid and be treated on par with their male counterparts. What is the role, the power, the future of the female body? What is the ideal feminine?
This show proposes to use the gallery as a platform to examine the way artists, mostly female, sees the female body as the ideal feminine. Can a female body be an ideal? What is that feminine ideal? Does it exist? Does it attract, repel, and exhibit strength, weakness? What are our expectations for the feminine ideal? Twelve artists have been invited to participate in the Ideal Feminine? show, each dealing with the notion of the female form in an individual way through a variety of materials, techniques, styles and interpretations.
The exhibition was on view from May 23 to July 31, 2018.
2017
SOLO EXHIBITIONS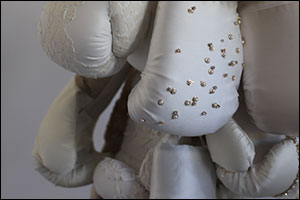 IMPRISON HER SOFT HAND, Project for Empty Space, 2 Gateway Center, Newark, NJ
Project for Empty Space presents Imprison Her Soft Hand, Zoë Buckman's third solo exhibition debuting pieces from her new series Let Her Rave, along with works from Mostly It's Just Uncomfortable, Every Curve, and Present Life. The project is part of Project For Empty Space's GRAB BACK: PES Feminist Incubator Space. Taking both its title and inspiration from John Keats' Romantic-era poem "Ode on Melancholy," Imprison Her Soft Hand navigates the complexities of traditional 'femininity' and female empowerment. Her 'prettying' of female medical objects and imagery, speaks to this complicated narrative around the female nature. Also, by outfitting bunches of boxing gloves in reconstituted wedding dress fabric, Buckman explores the complex aggressions that women face each day. Her use of seemingly discordant textures- 'tough' materials such as rough metal with soft 'feminine' fabrics, further speaks to this idea, as well as the idea that not only can women be both 'feminine' and 'ferocious', but that women must be that way. The clusters of boxing gloves from Let Her Rave are not only a symbolic critique of patriarchal structures; but also, reflects her own love of the sport and advocacy for women to become more involved in the sport not only as a means of self defense; but also, as a form of physical, emotional, and mental empowerment. This body of work will be shown from February 22 to April 1, 2017.
GROUP EXHIBITIONS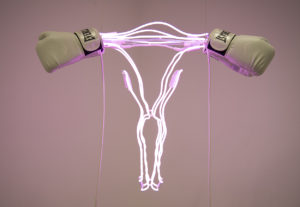 THE FUTURE IS FEMALE, 21c Museum Hotel Cincinnati, Cincinnati, OH
Multimedia works by international artists such as Zoe Buckman, Zanele Muholi, and Saya Woolfalk make strong feminist statements in this timely exhibition of contemporary art. Investigating identity, consumer culture, history, and power, the art featured in The Future is Female illuminates both the consequences of and the persistence of the struggle for equality.
Zoe Buckman's Champ, a sculpture of female reproductive organs rendered in neon light with white boxing gloves, encapsulates the theme of struggle and persistence. Part of the series Mostly It's Just Uncomfortable, Champ is part of Zoe Buckman's response to the attack on Planned Parenthood in the United States, the consequent deprivation of access to free sexual health care, as well as the attempted curtailing of a woman's right to make choices concerning her own body.
Embellished with materials from bridal gowns and veils, boxing gloves are the central element in Buckman's series, Let Her Rave, which responds to 19th-century poet John Keats's expression of male dominance in "Ode to Melancholy." The prevalence of craft-based practices such as sewing and embroidery in 21st-century contemporary art is a legacy of the feminist art of the 1970s. Buckman's combination of traditionally feminine materials with boxing gloves is both an assertion of feminist power and an invitation to join the fight.
The Future is Female will be on view at the 21c Museum Hotel Cincinnati from November 18, 2017 to September 1, 2018.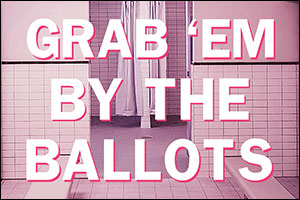 GIVE US THE VOTE, ArtsWestchester Gallery, White Plains, NY
ArtsWestchester's Give Us The Vote is inspired by the 100th anniversary of women's suffrage in New York State. This contemporary art exhibition in downtown White Plains examines the state of voting rights in America today.
The idea that American democracy is government "by the people, for the people" is fundamental to our national identity, yet the history of who has access to the ballot box in America is troubled. The right to vote is the most contested in American democracy. Give Us the Vote is a contemporary art exhibition inspired by the one hundredth anniversary of the victory for women's voting rights in New York State, and examines the state of voting rights in America today.
The suffragist movement was one of the most powerful grassroots political movement of the 20th century. Women and men from all walks of life rallied together to win women an equal say in the democratic process and full recognition as citizens. The battle for the ballot raged through the Civil Rights Movement leading to the Voting Rights Act of 1965, ensuring that the right to vote would not be denied on account of race or color. Still, not every citizen has equal access to the polls. Each election cycle reveals remaining disenfranchised populations and raises controversy about who should, can and does vote. In addition to recognizing the achievements of the suffragists, artworks will address the many enduring barriers to the ballot including gerrymandering, stringent voter registration requirements, voter registration roll purges, and revisions to the Voting Rights Act. Give Us The Vote will be on view from October 10 to January 27, 2017.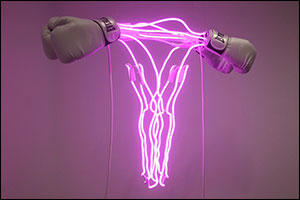 RE-IMAGINING A SAFE SPACE, Gulf + Western Gallery, NYU Tisch School of the Arts, New York, NY
Re-imagining A Safe Space, co-curated by Deborah Willis and Melissa Harris, will explore critical questions regarding the idea of a safe space. We hope to reach deeper and richer understanding of our needs as a public—and how those needs differ depending on demographics and who we are individually. Re-Imagining A Safe Space will be on view from October 23 to January 13, 2017.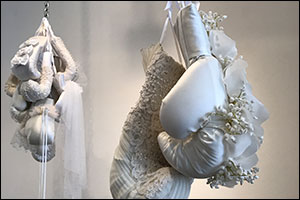 INSIDE/OUTSIDE VOICES , Winston Wätcher Gallery, New York, NY
Winston Wächter Fine Artpresents Inside/Outside Voices, a dynamic group exhibition of photography and sculpture that explores four feminine and powerful voices: Zoë Buckman, Meghan Boody, Penelope Umbrico, and Jil Weinstock.
"Inside voices" are the internal dialogues we have that comment on moment-to-moment experiences, critiquing decisions and interactions with others — thoughts best left unspoken. In contrast, sometimes an "outside" voice is required when something needs to be heard, something that contributes to the human experience. The four artists in this exhibition generate a critical and visual dialogue around issues that are at once deeply personal and universal: adoption, voyeurism, aggression, mortality, beauty, and life. These artists question the unwritten but deeply felt rules of internal vs. external expression.
In Let Her Rave, Zoë Buckman sews wedding dresses into boxing gloves, and hangs them from chains in clusters. The masculine sport of fighting is united with, but not concealed by, the feminine trappings of silk, lace, and embroidery. Buckman challenges the notion that women are fragile, or that they require a man's permission to "rave." In Present Life, Buckman photographs flowers on the brink of decay, preserving the very moment between life and death, challenging notions of permanence and transience.
Inside/Outside Voices will be on view from September 7 to October 21, 2017.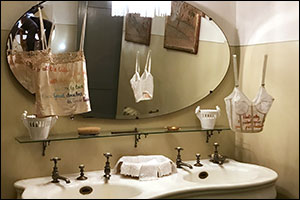 REGARDING WOMEN IN THE ACTON COLLECTION, NYU Florence Villa La Pietra, Florence, Italy
Using the Acton Collection as both a productive and discursive site, Regarding Women in the Acton Collection examines the depiction of women with a transhistorical perspective, adding into the Villa's collection contemporary responses by artists and poets in an effort to investigate, challenge and expand upon received art historical categories of iconography, patronage, material and function. This exhibition is a part of The Season, curated and produced by Ellyn Toscano. The Season was founded in 2005 by Toscano, the Villa's director, from her vision to set contemporary work in conversation with the Villa's expansive grounds and eclectic art collection. Since 2005, The Season has produced collaboration and exploration between international artists of varying mediums. Regarding Women in the Acton Collection will be on view from June 25 to December 14, 2017.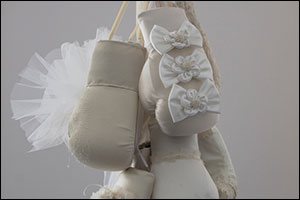 THE CURATORS' EGGS, Paul Kasmin Gallery, New York, NY
Paul Kasmin Gallery is pleased to present The Curators' Eggs, an exhibition which will feature the work of thirteen artists, each selected by one of thirteen guest curators. Spanning painting, sculpture and installation, the exhibition will manifest the ongoing dialogue between artists and cultural influencers in an effort to momentarily articulate the hyper-evolving landscape of contemporary art. The Curators' Eggs will be on view from July 12 to August 18, 2017.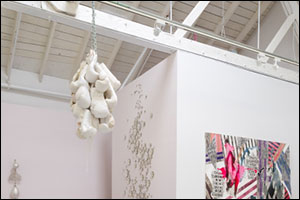 FLAMING JUNE VII (FLAMING CREATURES), GAVLAK, Los Angeles, CA
Gavlak Los Angeles presents a group exhibition entitled Flaming June VII (Flaming Creatures). This is the seventh iteration of "Flaming June," a series of exhibitions curated by Sarah Gavlak that began in 1997. The title of the show is attributed to English Pre-Raphaelite artist Sir Frederic Leighton's famous classist painting Flaming June (1895) which portrays a sleeping woman in a vibrant orange gown. Artists featured include Zoe Buckman, Lisa Anne Auerbach, Judie Bamber, Amy Bessone, Andrew Brischler, Willie Cole, Mike Davis, Lecia Dole-Recio, Judith Eisler, Alexandra Grant, Keith Haring, David Haxton, Nir Hod, Timothy Horn, Elisabeth Kley, Kelly Lamb, Bovey Lee, Michael Manning, Maynard Monrow, David Mramor, Yuval Pudik, Dean Sameshima, Tabboo!, Betty Tompkins, Marnie Weber, T.J. Wilcox, and Rob Wynne.Flaming June VII (Flaming Creatures) will be on view from June 8 to August 5, 2017.

THE HELA PROJECT, 465 W. Broadway, New York, NY
HBO officially launches "The HeLa Project," a culturally-grounded, multi-media exhibition inspired by the highly anticipated HBO film, THE IMMORTAL LIFE OF HENRIETTA LACKS, starring Oprah Winfrey and Rose Byrne. Directed by George C. Wolfe, the film is based on Rebecca Skloot's critically acclaimed New York Times bestseller of the same name. "The HeLa Project" is designed to celebrate Henrietta Lacks, the woman – to give her a voice and to humanize and recognize this wonderful being. The exhibition features an original portrait by two-time Caldecott Honor Award winning artist Kadir Nelson and a touching, original poem by Saul Williams. Additional art, curated by Lewis Long of Long Gallery Harlem, includes works by Zoë Buckman, Derrick Adams, Madeleine Hunt Ehrlich, Doreen Garner, and Tomashi Jackson. The product of these elements, plus an educational, sculptural installation about the HeLa cells, all converge in this engaging experience. The multi-market exhibition will run April 7th – April 9th in SoHo, New York (465 W. Broadway, Fri – Sat, 11am – 7pm, Sun 12pm – 5pm).  "The HeLa Project" will be making additional stops in Atlanta, GA on April 13th – April 16th at the National Center for Civil and Human Rights and finally in Washington, DC at the National Museum of African-American History & Culture.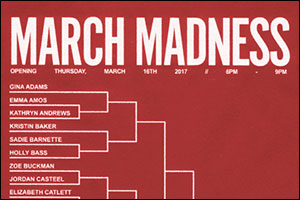 MARCH MADNESS, Fort Gansevoort, New York, NY
Fort Gansevoort presents March Madness, the second of two exhibitions that focus on the culture of sport as represented in the visual arts. Curated by the duo, Hank Willis Thomas and Adam Shopkorn, this year's exhibition centers on the realm of athleticism from the perspective of women. The show features a roster of 31 artists, all women, whose artwork subvert masculine archetypes, and challenge more docile notions of femininity by highlighting the qualities of strength, fitness and agility that are characteristic of physical skill and capability. These aesthetic observations of the physical form become metaphors by which to consider broader issues about empowerment, gender roles, beauty, politics, labor, pop culture – as well as ethnic and racial histories.  Featured artists include Zoe Buckman, Gina Adams, Emma Amos, Kathryn Andrews, Kristin Baker, Sadie Barnette, Elizabeth Catlett, Pamela Council, Renee Cox, Sylvie Fleury, Rin Johnson, Miranda July, Catherine Opie, Cheryl Pope, Leni Riefenstahl, Faith Ringgold, Deborah Roberts, Martha Rosler, Alison Saar, Betye Saar, Collier Schorr, Laurel Shear, Cindy Sherman, Deborah Willis, and many more.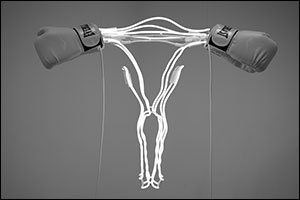 RE-IMAGINING A SAFE SPACE, Nathan Cummings Foundation, New York, NY
Re-imagining A Safe Space explores critical questions regarding the idea of a safe space. We hope to reach deeper and richer understanding of our needs as a public—and how those needs differ depending on demographics and who we are individually. The Spring exhibition will include works by 22 photographers, video artists, and visual artists who explore the theme of the exhibition through their works: Zoë Buckman, Mangue Banzima, Martin Bell & Mary Ellen Mark, Nina Berman, Cause Collective, Elizabeth Colomba, Bruce Davidson, Erika deVries, Donna Ferrato, Samara Gaev, Caran Hartsfield, Lili Holzer-Glier, Jessica Ingram, Michael Koehler, Barbara Kruger, Lorie Novak, Gordon Parks, Alice Proujansky, Safe Space Collective, Scheherazade Tillet, Sophia Tsanos, and David Wojnaorwicz. Re-imagining A Safe Space will be on view from March 30 to October 16, 2017.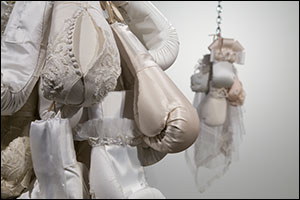 TRANSPARENCY SHADE, Projects+Gallery, St. Louis, MO
Projects+Gallery presents TRANSPARENCY SHADE: Seeing Through the Shadow, a group exhibition curated by Modou Dieng featuring artists Zoë Buckman, Philip Aguirre y Otegui, Kendell Carter, Kahlil Irving, Ayana Jackson, Michael Riedel and Hank Willis Thomas. The mixture of two-and three-dimensional artwork within the show conveys post-identity semiotics, or the use and interpretation of visual and linguistic signs and symbols that function to form identity. The artists use cultural appropriation and hybrid materials to articulate the concept, engaging with and also problematizing such appropriation to investigate how meaning is and has been created in a postcolonial world. TRANSPARENCY SHADE: Seeing Through the Shadow will be on view from April 7 to May 27, 2017.
2016
SOLO EXHIBITION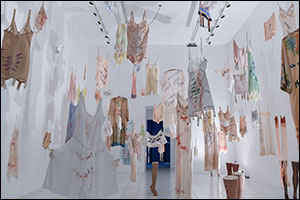 EVERY CURVE, PAPILLION ART, Los Angeles, CA
PAPILLION ART presents Every Curve, Zoë Buckman's debut Los Angeles exhibition, realizing an ongoing body of work, three years in the making, which explores the contradictory and complimentary influences of Feminism and Hip-Hop in her upbringing. The installation of hanging vintage lingerie reveals the artist's fascination with femininity throughout time. Buckman hand-embroiders the lingerie with lyrics that refer to women from the iconic rappers Tupac Shakur and Notorious B.I.G. The text spans from the violent and misogynistic to the wholly sympathetic and pro-choice. This juxtaposition is witty in its provocation and empowered awareness while comparing the Janus-faced relationship between feminism and Hip-Hop both in the 90's and today. This body of work will be shown in its entirety at PAPILLION ART, LA, from March 12 to April 30, 2016.
GROUP EXHIBITIONS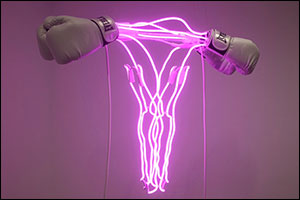 PROJECTS – CHAMP, PULSE Miami Beach, Miami, FL
PULSE Art Fair's signature PROJECTS program is committed to the presentation and promotion of audience-engaging large-scale sculptures, installations and performances. This year Zoë Buckman's Champ, 2016 will be featured in the program. From the series Mostly It's Just Uncomfortable, the work is part of Buckman's response to the attack on Planned Parenthood in the United States, the consequent deprivation of access to free sexual health care for underserved women, as well as the attempted curtailing of a woman's right to make choices concerning her own body. Champ will be on view for the entire duration of the fair, December 1-4, 2016.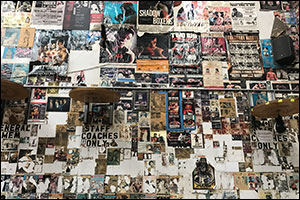 ONE ROUND – SoundScape Park Evening Film Program, Art Basel Miami Beach, Miami, FL
Nightly from November 30 to December 4, 2016 outdoor screenings will take place in SoundScape Park on the 7,000-square-foot outdoor projection wall of the New World Center, a three-minute walk from the Miami Beach Convention Center. Admission to Film at SoundScape Park is free. Visitors are encouraged to bring blankets and lawn chairs. Sounds works in SoundScape Park will occur every evening from 6pm to the start of the first film screening. A compilation of six artists' sound works will be presented in SoundScape Park, including: Ain Bailey, NSD/TSD, 2016; Zoë Buckman, One Round, 2016; A.K. Burns, Leave No Trace (Side A), 2016; Jonathan Montague, Plundaphonic, 2016; Molly Palmer, Sirens, 2016; Susannah Stark, The Wheel, 2016.
The following is a description of the sound work One Round:
The audience stand amidst the sound of a speed bag being rhythmically hit in a boxing gym. The sound of the leather hitting the wood: hard and succinct, builds to an almost aggressive quality as it is picked up in surround sound, yet the repetition of this specific sound allows for an almost hypnotic or meditative experience. The sounds one hears in a boxing gym have a testosterone-heavy quality to them. However during the time Buckman has spent in these spaces, she has drawn parallels between the strength, endurance and confidence needed to survive there, with female-centric experiences such as childbirth." – Zoë Buckman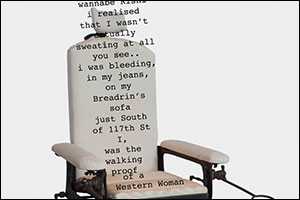 HARLEM POSTCARDS – Fall/Winter 2016-2017, The Studio Museum in Harlem, New York, NY
Harlem Postcards Fall/Winter 2016–2017 is the latest installment in an ongoing project that invites contemporary artists to reflect on the many sides of Harlem: as a site of cultural activity, political vitality, visual stimulation, artistic contemplation and creative production. This season, Harlem Postcards features work by Gail Anderson, Nayland Blake, Zoë Buckman and Talwst, whose images, both intimate and dynamic, reflect the idiosyncratic visions of artists from a wide range of backgrounds and locations. Buckman's contribution is a piece called The Oxford. In the winter of 2012 in Harlem, Buckman had a loaded encounter with a Hindu spiritual leader that prompted her to write a poem entitled Swami-ji. Here Buckman revisits the piece, but this time explores the relationship between sculpture and written text by imposing an excerpt from the poem onto a gynaecological examination table from the 1800's which she has reupholstered with vintage lingerie. This work is part of Buckman's on-going series Mostly It's Just Uncomfortable, which is her response to the recent attacks on Planned Parenthood in the U.S., the attempted curtailing of women's access to sexual health, as well as their right to choice.
Each image has been reproduced as a limited-edition postcard and is available free to Studio Museum visitors. Harlem Postcards Fall/Winter 2016–2017 will be on view from November 17, 2016 to March 5, 2017.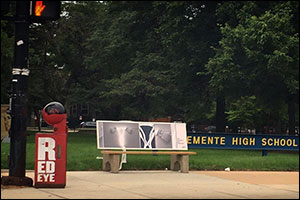 OFF THE WALL – FOR FREEDOMS, Monique Meloche, Division St and Oakley Blvd, Chicago, IL
Monique Meloche Gallery present its third annual off the wall exhibition, featuring works from the first ever artist-run super PAC, For Freedoms. Scheduled over the course of the 2016 presidential election season, works by Zoë Buckman, Paula Crown, Maria Gaspar, Nari Ward, and Carrie Mae Weems will be displayed on public bus benches throughout Wicker Park Bucktown, for this exclusive engagement with a Chicago audience. Zoë Buckman marries the stereotypically masculine to the feminine, through the use of polarizing iconography. In this instance, the artist's own boxing gloves are joined with a neon diagram of the uterus, thereby transforming a traditional image of fragility into a symbol of resistance. A continuation of Buckman's ongoing series Mostly It's Just Uncomfortable, the piece raises questions about health care, sex education, and women's rights, while promoting female positivity. off the wall – For Freedoms will be on view from September 1 to November 30, 2016.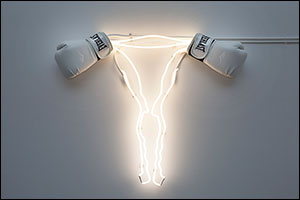 TRUTH TO POWER, Democratic National Convention, 990 Spring Garden St. Philadelphia PA 19123, July 25 – 27
Curated by Yosi Sergant, former White House Liaison for the Arts and the former Director of Communications at the National Endowment for the Arts, Truth to Power, a large scale, pop-up exihbition from July 25-27th in Philadelphia will be presented as a part of the Democratic National Convention. Rock the Vote launches the Truth to Power campaign in order to engage and mobilized young people in the 2016  election. The show will present artworks that comment on the host of issues facing communities across our nation. In partnership with #Cut50 and other national and community partners including Planned Parenthood, the exhibition brings together some of the nation's most prolific and talented visual artists, young activists, musicians, poets, policymakers and community leaders and features hundreds of inspiring works of art and over 25 hours of programming and events.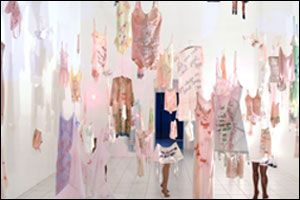 FRAMING BEAUTY, Grunwald Gallery of Art, Indiana University
Curated by Professor Deborah Willis, Ph.D. of New York University, Tisch School of Arts and with catalog essay by Brooklyn Museum of Art curator Rujeko Hockley, this group exhibition is a response to Indiana University's Themester on Beauty. The artworks within the exhibition can be viewed as interventions, explorations, musings and documents of framing a story on beauty and it's complex forms. The exhibition will enhance the Themester goals by showing works by artists who are among the most influential and creative working today. They examine the differing notions of beauty through the body, music, community, fashion, and history using diverse media, including photographs, video and new technology. These works focus on the notion of individuality and what comes together is a collective pursuit of the idea of "framing beauty" in a complex society. Framing Beauty will be on view from August 26 to October 7, 2016 at the Grunwald Gallery of Art.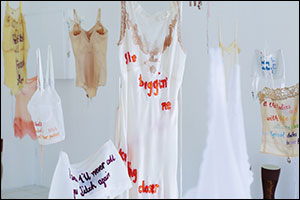 MAKING & UNMAKING, Camden Arts Centre, London, UK
Curated by celebrated fashion designer and curator Duro Olowu, this group show brings together over sixty international artists working in diverse media. The exhibition places antique West African textiles and Bauhaus tapestries amongst contemporary works and new commissions. Individually, the works address themes that include portraiture as well as representations of beauty, gender, sexuality, innocence and the body. Collectively, their coming together reveals a common thread that Olowu describes as a "process of personal ritual experienced by artists in creating their work." Artists include Zoë Buckman, Caroline Achaintre, Marina Adams, Njideka Akunyili Crosby, Anni Albers, Tasha Amini, Hurvin Anderson, Polly Apfelbaum, Tony Armstrong Jones, Walead Beshty, Alighiero Boetti, Louise Bourgeois, Carol Bove, Lisa Brice, James Brown, Claude Cahun, Lygia Clark, Tommaso Corvi-Mora, Alexandre da Cunha, Andreas Eriksson, Meredith Frampton, Hassan Hajjaj, Chie Hammons, Sheila Hicks, Diane Itter, Isaac Julien, Neil Kenlock, Peter McDonald, Rodney McMillian, Eric Mack, Hamidou Maiga, Brice Marden, Ari Marcopoulos, Wangechi Mutu, Alice Neel, Nobukho Nqaba, Chris Ofili, Horace Ové, Irving Penn, Tal R, Michael Roberts, Ibrahim El-Salahi, Yinka Shonibare MBE, Malick Sidibe, Lorna Simpson, Daniel Sinsel, Christiana Soulou, Dorothea Tanning, Bill Traylor, Francis Upritchard, Al Vandenberg, Brent Wadden, Rebecca Ward, Kehinde Wiley, Masaaki Yamada, Lynette Yiadom-Boakye, and more. Making & Unmaking will be on view from June 19 to September 18, 2016.
Related exhibition publication featuring Buckman, Making and Unmaking, can be purchased here.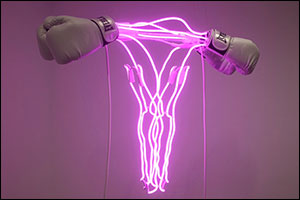 FOR FREEDOMS, Jack Shainman Gallery, New York, NY
Artists Hank Willis Thomas and Eric Gottesman created the first artist-run Super Pac, For Freedoms, in the run up to the 2016 presidential elections. Their mission is to change the way candidates and citizens participate in conversations about politics in the United States. Jack Shainman Gallery will host the super PAC headquarters and organize a group exhibition at their 24th Street location. For Freedoms believes that art and artists, like other civic institutions and citizens, have an important role in shaping our society. Art embodies many of the ideals to which politicians aspire. It envisions the future, it has the power to change beliefs and to impact positive change. Artist Zoë Buckman will participate in the show as her work and practice strives to achieve the same goal. Other artists include Nina Chanel Abney, Edgar Arcenaux, Shimon Attie, Paula Crown, Wendy Ewald, Chitra Ganesh, Maria Gaspar, Mariam Ghani, Jim Goldberg, Pablo Helguera, Sohrab Hura, Mathew Day Jackson, Rashid Johnson, Titus Kaphar, Marilyn Minter, Trevor Paglen, Michelle Pred, Norman Rockwell, Kameelah Rasheed, Kelly Sherman, Xaviera Simmons, Bayeté Ross Smith, Alec Soth, Will Steacy, Mikhael Subotzky, Mickalene Thomas, Fred Tomaselli, Mark Tribe, Nari Ward, Leslie Wayne, and Carrie Mae Weems. For Freedoms will be on view from June 7 to August 5, 2016.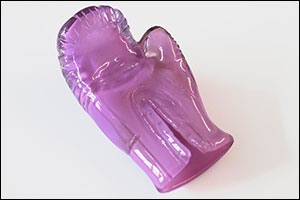 GAME ON!, Children's Museum of the Arts, New York, NY
A group exhibition focusing mankind's passion for sport and how it has defined our individual and collective identities. Throughout history, the world of games — with its inversions of mastery, dependence on chance and reliance on both verbal and physical play — has intrigued and inspired visual artists. Game On! presents works by contemporary artists who take a reflective, critical or inspired look at sport and how we play the game. Addressing issues of identity, power, heroism, nostalgia, popular culture and gender, Game On! highlights a variety of media that reminds us that within every ruled system, there exists potential for creativity and exploration. Artists include Louisa Armbrust, Zoë Buckman, Dario Escobar, Norm Paris, David Rathman, Christin Rose, and Jean Shin. Game On! will be on view from May 31 to September 4, 2016 in the Cynthia C. Wainwright Gallery.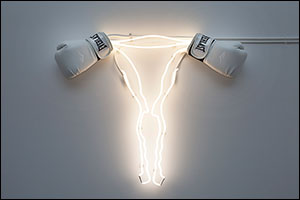 MARCH MADNESS, Fort Ganesvoort, New York, NY
Fort Ganesvoort presents March Madness a group show curated by Hank Willis Thomas and Adam Shopkorn featuring 27 artists who use sports and art to comment on political and social issues. The artist's eye finds the corruption, violence and racism behind the scoreboard, and the artist's hand enhances the protest. Artists include Zoë Buckman, Derrick Adams, Sadie Barnette, Michael Ray Charles, Pamela Council, Emory Douglas, Derek Fordjour, Jeffrey Gibson, Satch Hoyt, David Huffman, Alex Israel, Rashid Johnson, Glen Kaino, Jeff Koons, Robert Longo, Shaun Leonardo, Charles McGill, Gordon Parks, Paul Pfeiffer, Raymond Pettibon, Cheryl Pope, Ronny Quevedo, Robin Rhode, William Scott, Gary Simmons, Hank Willis Thomas, and Nari Ward. This exhibition will be on view at Fort Ganesvoort from March 18 to May 1.
2015
SOLO EXHIBITION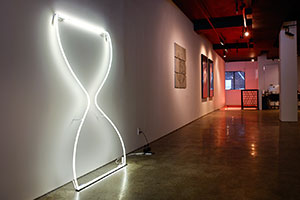 PRESENT LIFE, Garis & Hahn Gallery, New York, NY
View Zoe Buckman's artist page at Garis & Hahn.
Present Life is a collection of works that explores the liminal space between life and death and cycles of genesis and decay through varied media including photography, sculpture, neon and installation. As a series, its starting point is one directly informed by the artist's highly personal experience of childbirth from which relational questions pertaining to transience, permanence, and mortality are explored. This body of work was shown in its entirety at Garis & Hahn, New York, from February 24 to March 28, 2015.
Related publication featuring Buckman, How We Do Both: Art and Motherhood – Second Edition edited by Qiana Mestrich and Michi Jigarjian, can be purchased here.
GROUP EXHIBITIONS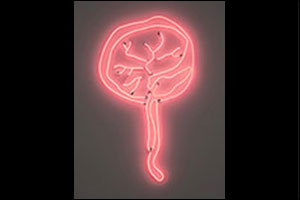 DARE YOU TO LOOK: RADICAL REALIZATIONS IN PORTRAITURE, Burning in Water, New York, NY
In collaboration with Kenya-based non-profit UHAI EASHRI, Burning in Water, a partner of Free Arts NYC, presented a group exhibition curated by Alexandra Giniger celebrating the right of all people to be free of abuse or oppression based on gender or sexual orientation. Dare You To Look highlighted a collection of works by a diverse range of artists who embrace portraiture and figuration to explore expansive representations of identity. The artworks selected envision both radical representations of the body and conceptions of self to realize such iconographies. Artists included Zoe Buckman, Mickalene Thomas, Wangechi Mutu, Malick Sidibe, Cheri Samba, Robert Mapplethorpe, Lorna Simpson, Shirin Neshat, Richard Mosse, Nan Goldin, Chris Ofili, Cheri Cherin, and many more. Dare You to Look was on view from November 19, 2015 through January 30, 2016. A portion of the proceeds from this show benefited Free Arts NYC & UHAI EASHRI.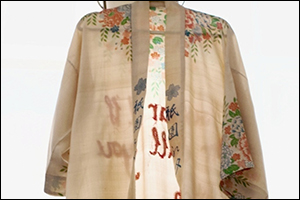 YOUNG, GIFTED, AND BLACK, Goodman Gallery, Johannesburg, South Africa
The group show, titled after the song "To be Young, Gifted, and Black" by Nina Simone with lyrics from Weldon Irvine and written in the memory of Simone's late friend Lorraine Hansberry author of  Raisin in the Sun, surrounded ideas and issues of racial, sexual, and historical identity in contemporary culture since 2010. Willis chose a selection of works from Buckman's Every Curve series, along with works from Derrick Adams, Titus Kaphar, Toyin Ojih Odutola, Adam Pendleton, Shinique Smith, among others.  The Goodman Gallery, located in Johannesburg, South Africa, is passionate about making the influence of artists from Africa and the African diaspora on global art culture felt in South Africa and internationally. Young, Gifted, and Black was on view from September 26 to November 11, 2015.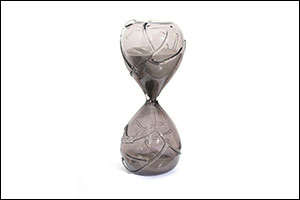 AFRICA'S OUT, 1st Annual Benefit at Gladstone Gallery, New York, NY
View Zoe Buckman's artist page at Africa's Out.
Buckman's work was included in the first annual benefit auction for Africa's Out!, a nonprofit founded by artist and activist Wangechi Mutu. "It's hugely important to me to be a part of something as unique, necessary, and timely as Africa's Out! As artists in the West, we are afforded certain freedoms that those in other parts of the world are robbed of, and I believe it is one of our duties as image-makers to challenge the status quo and inspire activism and radicalism both on our shores and abroad." Africa's Out! is as a far-reaching platform to change the way we ALL engage with Africa and, more specifically, the way Africans reach out to empower one another.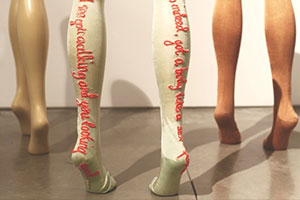 IN YOUR DREAMS, Spring/Break Art Show – Spring 2015
curated by Marina T. Schindler
Drawing from artworks ranging in culture, time period and medium, In Your Dreams, curated by Marina T. Schindler,  was a group exhibition that probed the taboo topics of sex, sexual fantasy, intimacy, romance and desire. Inextricably tied to what it means to be human, sex and sexuality have long held their significance as two of the most discussed and considered subjects within our individual relationships, as well as in society's broader dialogue. In Your Dreams invited the viewer to reflect on the human being's diverse relationship to sex and sexuality through art that references the romance, hilarity, kink, frivolity, roughness and tenderness associated with the thought, fantasy or act of sex.This exhibition at the Spring/Break Art Show – Spring 2015 included artists Zoë Buckman, Louise Bourgeois, E.V. Day, Tracey Emin, Walter Robinson, and Tom Wesselmann, among others.
2014
GROUP EXHIBITIONS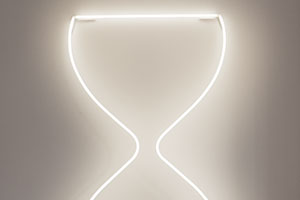 ABSTRACTION NOW, Leila Heller Gallery, New York, NY
This group exhibition, which included Buckman's neon hourglass, focused on abstraction in contemporary art and benefited Free Arts, an organization that provides underserved children and families with arts education and mentoring programs. It featured other such artists as Tauba Auerbach, Ethan Cooke, Sarah Crowner, Sam Falls, Roman Liska, Israel Lund, David Ostrowski, Lucien Smith, Wangechi Mutu, Kasper Sonne, Ned Vena, Christopher Wool, and Dustin Yellin. The exhibition was made possible by Burning in Water, Contemporary Art Trust in conjunction with Leila Heller Gallery in the Fall of 2014.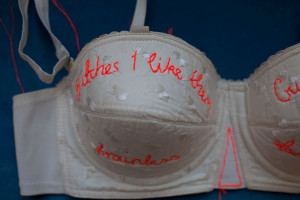 WHAT IS, ISN'T, Alan Koppel Gallery, Chicago, IL
Uprise art for Norwood, The Norwood, New York, NY
While much contemporary work is devoted to reinventing abstraction and representation, the artists in this exhibition chose to subvert both medium and gesture to conceptualize and identify notions of what is and what is not in unlikely forms. They instead embraced contradictions, dichotomies, and reconstructions of past cannons. What is, Isn't explored works in which messages are not readily apparent. Although the images are familiar and accessible to the viewer, the underlying implication leads one to question the complexities of contemporary life. Curated by Megan Green and Anne Huntington, What Is, Isn't was a group exhibition at Alan Koppel Gallery on view during EXPO Chicago,  September 18 to October 31, 2014. It included works by Zoë Buckman, Zoe Crosher, Brendan Fernandes, Katie Fischer, Elsa Hansen, Margaret Lee, Andrea Mary Marshall, Patrick Meagher, and Shelter Serra.
PUBLIC PROJECTS & INSTALLATIONS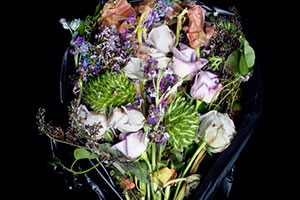 PULSE PROJECTS, Pulse Art Fair, New York, NY
Buckman presented a selection of four large-scale photographs from the series Present Life, which explores time and life's transient nature, investigating themes of mortality and examining the fleeting moment when something living begins to perish. The series itself aims to explore that which creates but also ceases, highlighting the temporary nature of life and the passage of time. Capturing the intricate detail of the flowers in large-scale photographs, Buckman created a visceral experience, allowing the viewer to almost smell the decay of beauty and life. This installation took place at PULSE Projects May 8 to May 11, 2014.
2013
GROUP EXHIBITION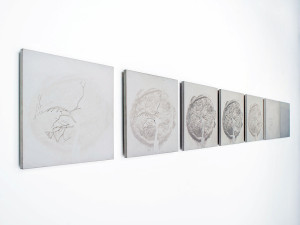 SMALL IS BEAUTIFUL, Flowers East Gallery, London, UK
This annual exhibition has been held at Flowers Gallery's London locations since 1974. It challenges contemporary artists working in all media to produce works with a fixed economy of scale, each piece measuring approximately 9 x 7 inches. This group show provides a great opportunity for unrepresented or neglected artists to exhibit alongside more established artists.
2012
GROUP EXHIBITION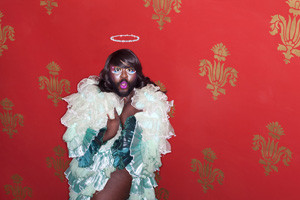 HIDDEN GEMS, Getty Images Gallery, London, UK
The Hidden Gems Project was a group exhibition held at The Getty Images Gallery for Christie's, one of the world's largest auction houses.
2010
SOLO EXHIBITION

LOOS, Milk Gallery, New York, NY
Buckman's first solo exhibition, Loos creatively captures bacchanalian bathroom culture by recreating scenes the artist overheard while working as a cocktail waitress in London nightclubs. Buckman's images, often paired with funny captions, celebrate a spectrum of emotions and show the contrast between the private self and the public persona one assumes within the often cramped and mirrored walls of the loo. The exhibition took place in June 2010 at Milk Gallery in New York.