2017
PLANNED PARENTHOOD x FOR FREEDOMS MURAL – May 2nd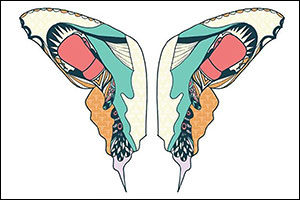 Mural for Planned Parenthood & For Freedoms by Zoë Buckman and Anya Ayoung-Chee, 100th Anniversary Gala at Pier 36
British artist Zoe Buckman teamed up with Project Runway winner Anya Ayoung-Chee on a mural of a uterus in the form of a butterfly, its wings decorated in boxing gloves, representing women's fighting spirits. The piece was presented by For Freedoms, and builds upon Buckman's earlier neon work, Champ, a uterus with boxing gloves for ovaries. "The wings and the uterus being larger than life represents freedom," Chee told artnet News of the project, her first collaboration with an artist. Buckman agreed, adding that "I wanted to make something that was political and was about the fight, but was also celebratory, and about beauty and flight and power and femininity."
WE HOLD THESE TRUTHS TO BE SELF-EVIDENT – February 8th


We Hold These Truths To Be Self-Evident: Mural by Zoë Buckman and Natalie Frank, Ford Foundation Live Gallery, New York Live Arts
Zoë Buckman and Natalie Frank are collaborating on a mural in the New York Live Arts Ford Foundation Live Gallery space in response to the "election" of Donald Trump. The mural utilizes text gathered from statements that former and current male politicians have made about women and their bodies over the last few years along the 31.9 foot long wall. Funds for the production of the mural were raised via a Kickstarter. The mural will be on view from February 8th through the Spring season. The installation is open to the public during regular lobby hours and continues through our spring season. Opening reception with the artists as well as Bill T. Jones and Janet Wong will be February 13th, 6-8PM – free with reservation, based on availability. 
2016
W MAGAZINE x FOR FREEDOMS – November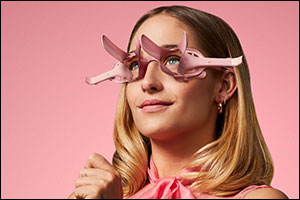 This For Freedoms political campaign advertisement, created by Zoë Buckman and Hank Willis Thomas, is featured along side 14 others also made by artists in a special section of this month's issue of W Magazine titled The Art of Politics. The poster features actress, artist, and activist Jemima Kirke wearing speculum glasses with the words "VOTE JEMIMA – A New Vision For the Future" sprawled across the decidedly pink-hued page.
The pair went one step further in their involvement by also collaborating on an written piece for W Magazine explaining why they nominated their own fictional candidate in an article titled Vote Jemima! Artists Hank Willis Thomas and Zoë Buckman On Their Choice.
Click here for the online version and here for the PDF version of The Art of Politics, produced by Diane Solway.  
FOR FREEDOMS BILLBOARD – October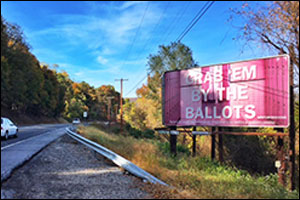 This For Freedoms billboard will be installed in the town of Harrisburg, PA during the election from mid-Oct to mid-Nov 2016. The piece is a call to action for people to vote. It is the artist's a response to Donald Trump's sexually violent comments and a play off of his defense of these comments at mere "locker room talk."
OFF THE WALL x FOR FREEDOMS – September 1st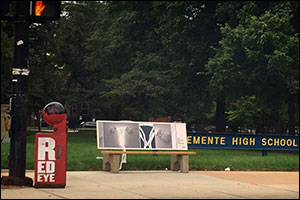 Monique Meloche, Division St and Oakley Blvd, Chicago, IL
Monique Meloche Gallery present its third annual off the wall exhibition, featuring works from the first ever artist-run super PAC, For Freedoms. Scheduled over the course of the 2016 presidential election season, works by Zoë Buckman, Paula Crown, Maria Gaspar, Nari Ward, and Carrie Mae Weems will be displayed on public bus benches throughout Wicker Park Bucktown, for this exclusive engagement with a Chicago audience. Zoë Buckman marries the stereotypically masculine to the feminine, through the use of polarizing iconography. In this instance, the artist's own boxing gloves are joined with a neon diagram of the uterus, thereby transforming a traditional image of fragility into a symbol of resistance. A continuation of Buckman's ongoing series Mostly It's Just Uncomfortable, the piece raises questions about health care, sex education, and women's rights, while promoting female positivity. off the wall – For Freedoms will be on view from September 1 to November 30, 2016.
FLAUNT MAGAZINE COMMISSION – May 20th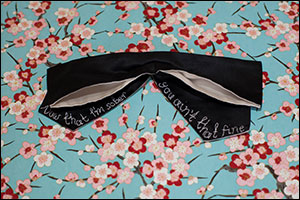 Following Buckman's solo show, Every Curve, in Los Angeles she created a special commission for LA based art, fashion, and culture publication, Flaunt Magazine. The hand-embroidered vintage neck tie reads, "Now that I'm sober, you ain't that fine."
Multimedia artist Zoë Buckman frequently cites hip-hop and feminism as her two earliest influences. Educated at the International Center for Photography in New York, Buckman always knew she wanted to break out from behind the camera. Her most recent series Every Curve is comprised of 92 pieces of vintage lingerie with lyrics from old school hip-hop songs hand-embroidered on them—including the piece featured here, which Buckman created in the spirit of Good Times."
"Now That I'm Sober" (2016). Hand embroidery on vintage necktie. Dimensions vary. Courtesy the artist and Bethanie Brady Artist Management. 
THE CULTIVIST'S ANNIVERSARY BASH – May 4th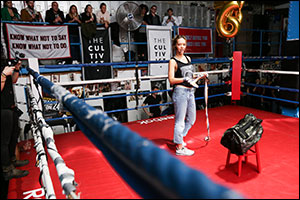 During New York's Frieze Art Fair Week 2016, Buckman participated in a multi-artist performance to honor The Cultivist's one year anniversary. The event, a truly sensory experience, was staged in a the Church Street Boxing Gym in Lower Manhattan. The performance included music, spoken word, staged boxing and sparring, and other boxing themed performances. Buckman's portion of the performance inside the boxing ring involved reciting a poem she wrote about visit to a a self-professed swami in Harlem who spoke racist, sexist, and xenophobic diatribes. The piece highlighted her feminist and activist upbringing and artist practice. Other artists involved in the performance included Hank Willis Thomas, Carlos Rolón, Naama Tsabar, Shinique Smith, Shaun Leonardo, Cheryl Pope, Mickalene Thomas, and Kambui Olujimi. Artnet News recounted the eventful evening.
Swamiji by Zoë Buckman
The sluggish Swami sat slumped
on my Bredrin's sofa,
just south
of 117th Street.
Dressed in orange Puma gear,
his chubby upper-lip was sprinkled with wispy hairs
that I'm sure were feeling quite scared
of this chilly January blitz.
He looked about 19?
He looked bored.
He looked like he was less than keen,
but he asked me why I had come to see him
and I decided to, yet again, be ingratiating.
Why?
Cos he was in all-orange and I was in jeans?
'Cha. You should know better, Buckman'
I say to myself
whenever I replay
this fucking scene.

So I sit there
and I try to respectfully explain
that I found some of yesterday's talk difficult to maintain.
I mean, 'amazing, of course,'
what with him being so wise and well-taught,
and us being so keen
and hungry for the knowledge
and so pleased
that he's come to visit us
and chosen our group of enthusiasts
to impart some of his wisdom to…
'Of course I am honored, Swamiji.' I said.
'But… I do… I do find some of it hard to wrap my head around
because, of course, I'm a woman,
a Western woman,
and I'm afforded certain freedoms
and so it's difficult for me to receive some of the teachings you were teaching you see,
because well, some of them Swamiji?
just some of them,
sort-of seem to pitch women below men, that's all really.
I mean… Respectfully.'

And then the sluggish Swami learnt forward, right?
and began to recite
what I can only call the most
racist
sexist
xenophobic rhetoric
I've ever heard anyone spit in the flesh.
Like, yeah… I've read backwards shit and I've seen it on the telly and all the rest,
but I've never sat inches away
from someone who was actually trying to say…
that in his village women must stay in the home or else they'll be raped by Muslims.
And whilst in the home it's better for them to
cook
and clean
because women can't possibly receive
the same spiritual fruit as men because they bleed
each month
and the pain of the menstrual cycle
is not conducive to learning the Vedas which is basically the Hindu bible.

And because
I am my Mother's daughter,
and because
I am my Grandmother's granddaughter,
and because
I am my Father's daughter,
and because I am my daughter's mother
and because
I am sister to my brothers…
I challenged him.
Like, I really tried to challenge this stupid now slightly sweaty, sluggish Swami, and as I did
I began to get a little sweaty myself,
and as I went round and round in cycles
with the imbecilic completely ridiculous wannabe Rishi
I realized that I wasn't actually sweating at all you see…
I was bleeding.
In my jeans.
On my Bredrin's sofa just south of 117th street
I,
was the walking proof of a western woman who had exercised
her right to choose.
And they told me I should probably expect some bleeding
but my mind had always been two steps ahead of my body and my body had been holding on
so I hadn't experienced anything
other than the weight of our decision,
the relief
and the grief of it.

But in that moment sat on that sofa
I smiled for the first time in a week,
and I let the ramblings of this
unfortunate, ignorant, infantile boy
blow away with the Harlem wind…
And I thought myself
'I'm gonna be here in the spring.'"
© Zoe Buckman
GALA FOR GOOD – April 19th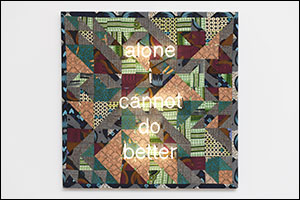 In January 2016, BB|AM founder, Bethanie Brady invited Buckman to join her on a service trip to Malawi with NYC-based nonprofit goods for good with the goal of creating a special commission to benefit the organization at their Spring 2016 Gala for Good. Using traded African fabrics, Buckman created a quilted canvas with the bold statement, "Alone I cannot do better" emerging on the surface in neon. As a continuation of the project, BB|AM and Buckman collaborated with fashion designer Mara Hoffman to create an embroidered tote bag echoing the same phrase in vibrant hues. 100% of sales benefit goods for good. 
Buckman recounts her experience and inspiration:
One of the things that was most striking to me during my field visit to Malawi was the spirit of generosity and community within the villages we spent time in. As a Londoner living in New York, the selflessness and joy of the Malawians, under such extreme circumstances, was unlike anything I have ever witnessed. This worldview moved me on the deepest level and it was important to me that my piece reflected this in some way. I chose to create a geometric quilt using fabrics belonging to the women in the villages, as well as new fabrics I had bought in the local market. I wanted to show how the 'new' works together with the 'old,' to reflect goods for good's impact working hand-in-hand with the communities there, and how the two forces come together to make a whole. In this quilt, there is harmony and synthesis between the weathered, worn fabrics and the new ones, but both are essential to complete the piece.

To acquire the used fabrics, I traded with the women, offering them new threads in return for their old ones. It was important to me that I wasn't taking from them, but rather that my piece had a part of real Malawi in it ‑ little triangles that each have had their own history, that each told the story of the people I met by bringing a piece of the villages into the work. 

During our interviews with villagers, there were many profound things shared with us. One of the stand-out statements came from Amina, one of three women who founded the Tiyambenawo Community Center 13 years ago Endlessly volunteering her time and resources, she has very little herself. But she still provides care, education and support to more than 1100 young children in the community She sat down with us when her nursery school class was finished. We talked about the incredible work she and her fellow volunteers do for these children. About the challenges they face. And about what more goods for good could be doing to support her efforts. She spoke about the importance of continued visits—how seeing people believe in the community gives the children hope. And she told us she simply needed more help. 

She said, 'Alone, I cannot do better.'

For me, this statement perfectly captured the inspiring spirit of the communities we had the opportunity to visit. It wasn't a request for more support. It was an indication of what the community had already accomplished, how the old systems were joining with the new resources from goods for good, and how it was all coming together, a harmony and synthesis as a way to support and care for one another. 

I took these words and made them in neon, the brightest of materials, mounting them to the quilt and delivering the message I had heard most loud and clearly during this eye-opening and life changing journey. 

Alone, we cannot do better. Together, we can build a new, bright future." – Zoë Buckman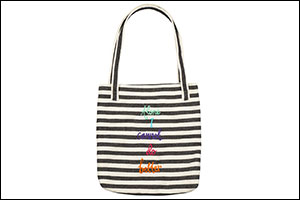 Purchase a Mara Hoffman x Zoë Buckman Limited Edition Tote Bag here.